When I bought my house, I inherited a lot of ugly light fixtures. My dad already helped replace the dome lights in the living room and entry way, and this bad boy in the kitchen was the next to go:
Isn't it beautiful?! I picked up this baby from
Lowes
for $40. It's a dark, rustic bronze. It looks SO much better than the old light fixture and this is perfect for our budget and our style.
We also needed to replace the ugly fluorescent light over the island. This wasn't even the "nice" rectangular ceramic dome fluorescent light. This was your scuzzy bathroom at a truck stop in South Dakota light. I don't have a before shot, but I think I've painted you a pretty good picture.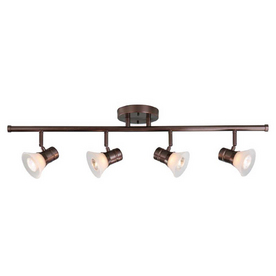 So much better! I love having light in my kitchen. I have been without since day 1 and that has really made the amount of time I could spend at my house after the sun starts to go down limited. It matches the finish of my table fixture, and I was able to get
this
$10 off with a Lowes coupon, making it only $49.
My Dad did an awesome job and I am so thankful for his knowledge and willingness to help out!